Daugelis automobilių turi neblogus originalius grotuvus, kurie dažnai net būna susieti su kitomis sistemomis. Retas iš mūsų važinėjasi su apynauju automobilių, tad nors ir originalūs grotuvai veikia puikiai, tačiau morališkai jie jau būna pasenę. Dažnai juk norisi groti muziką iš telefono, laisvų rankų įrangos be jokių laidų. Visas šias galimybes suteikia Bluetooth ryšys.
Nusprendžiau suprojektuoti ir pagaminti originalaus Ford grotuvo priedėlį, veikiantį kaip CD keitiklio emuliatorius. Per keletą mėnesių pavyko pasiekti tikslą.
Sukurtas grotuvo priedėlis jungiasi į gamyklinio grotuvo CD keitiklio jungtį ir imituoja CD keitiklio darbą. Priedėlis be jokių modifikacijų suderinamas su gamykliniu Ford grotuvu Ford 6000CD RDS EON. Šis priedėlis turėtų veikti ir su kitais maždaug 1994 – 2004 metų Ford grotuvų modeliais, suderinamais su CD keitikliu (angl. CD changer compatible). Priedėlis gali būti valdomas (dainų perjungimas, pravarymas, skambučio valdymas, režimų keitimas) per originalų grotuvą ar vairo konsolę. Pagrindinė informacija (režimas ir kita) atvaizduojama taip pat originalaus grotuvo ekrane.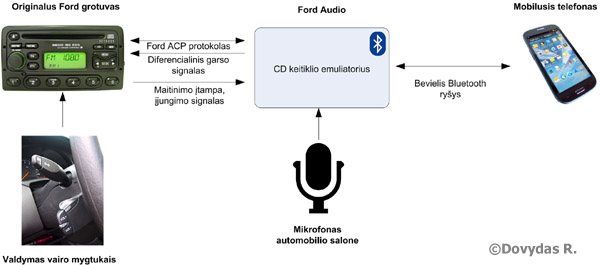 Panaudojau mikrovaldiklį AVR Atmega162. Šį mikrovaldiklį pasirinkau, nes buvo reikalingi du UART prievadai. Vienas UART prievadas buvo panaudotas bendravimui su Ford grotuvu ACP protokolu, o kitas UART prievadas panaudotas bendravimui su Bluetooth moduliu.
Žemiau pateikiau, kaip atrodo suprojektuota ir surinkta paskutinės (ketvirtoji) spausdintinės plokštės "Ford udio v2.0" versija, kurios matmenys labai kompaktiški (5 cm x 5 cm).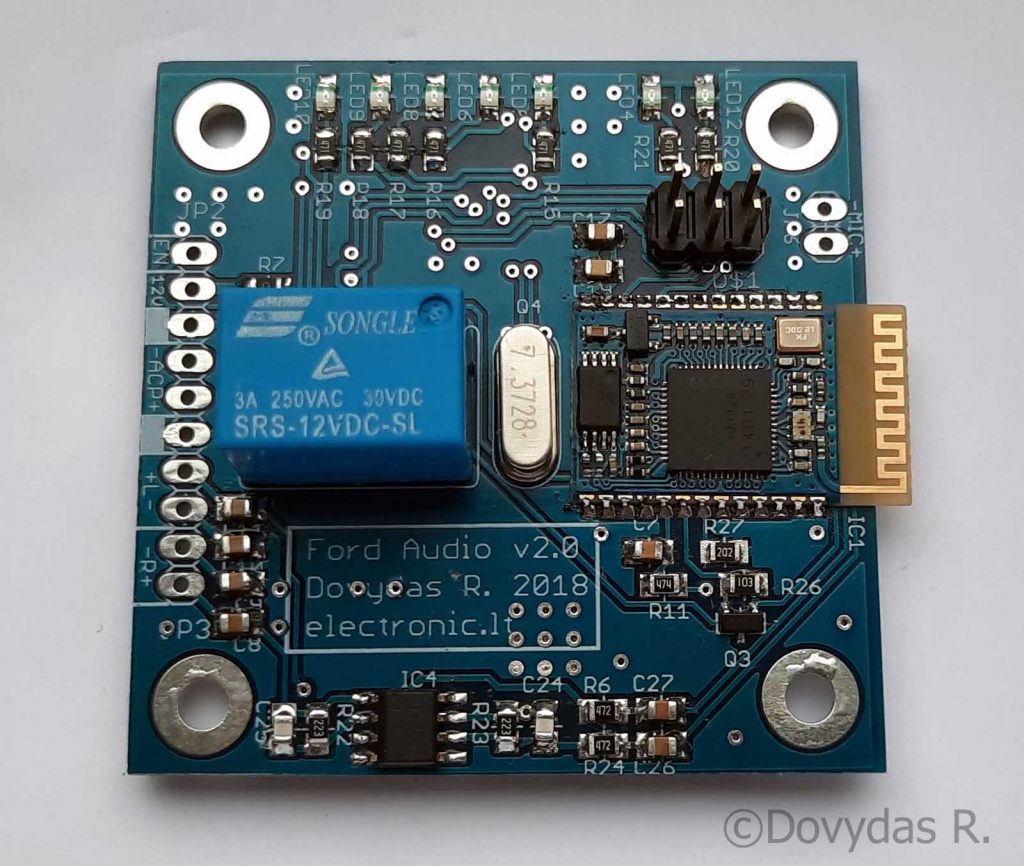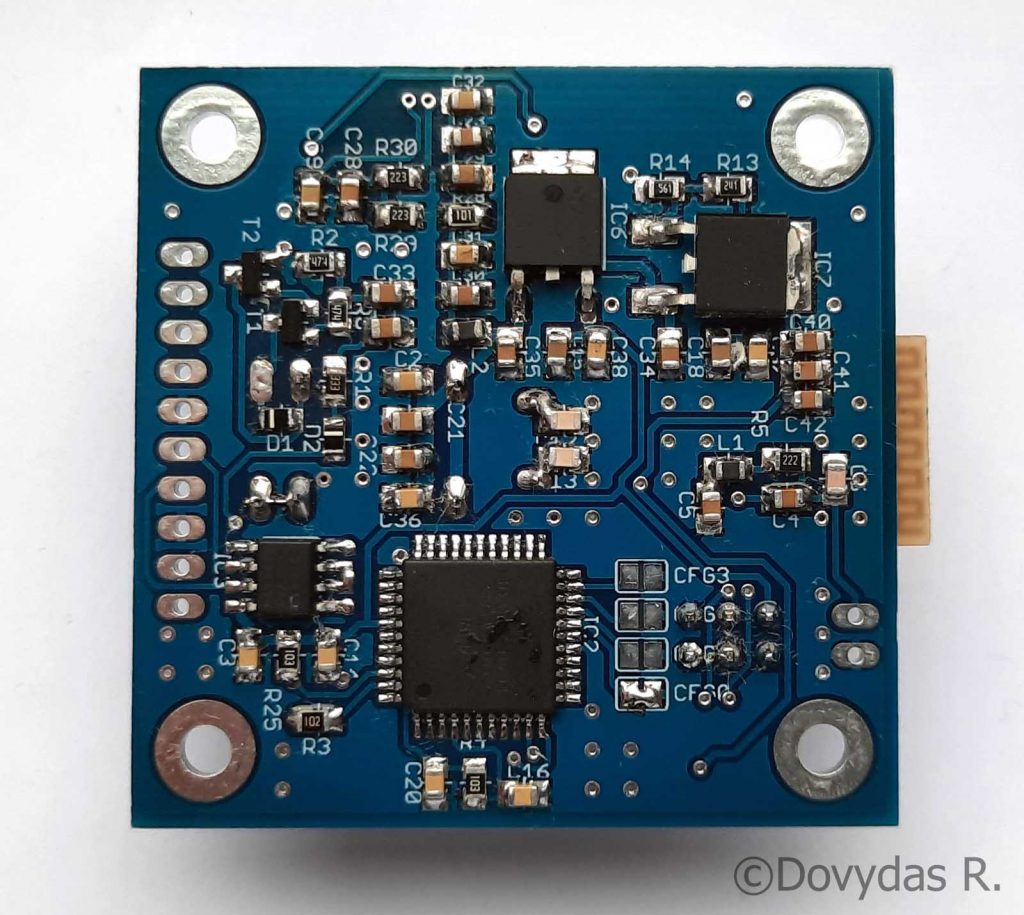 Bluetooth funkcijų realizavimui panaudojau anksčiau aprašytą BT BLK-MD-SPK-B modulį. Šis modulis valdomas AT komandomis.
Ford ACP yra tinklo protokolas naudojamas grotuvo komunikacijai su kitais įrenginiais. Šio protokolo fizinis lygmuo yra RS485, kurio duomenys perduodami 9600 bps greičiu po 9 bitus, be lyginumo bito bei naudojant 1 stop bitą (9600 9N1).
Įrenginys veikia puikiai ir leidžia naudotis originaliu grotuvų su išplėstu funkcionalumu.
Turėtų tikti šiems grotuvams:
4050RDS
4500
4600RDS
5000RDS
5000RDS EON
6000CD RDS
6000 MP3
7000RDS
Pabaigai, trumpas aprašymas anglų kalba.